Tuesday, May 5, 2009
IP2Location™ Script 4.99 MB


IP2Location™ IP-COUNTRY-REGION-CITY-LATITUDE-LONGITUDE-ZIPCODE-TIMEZONE-AREACODE database enables solution to determine country, region, city, latitude, longitude, ZIP code, timezone, IDD code and AREA code of any IP address in a few simple steps. First, retrieve IP address from networking protocol or server-side variable of Web server. Next, translate IP address to IP number in decimal format to speed up database query. Lastly, reverse lookup the IP number from the IP2Location™ database to pinpoint exact geographical location.
* The ZIP code and Area Code information is available in United States only.

Download :

http://rapidshare.com/files/154214922/ip2lc_2008_9.zip

at 12:10:00 AM
1 comment:

Sunday, May 3, 2009
at 11:41:00 PM
No comments:

1, Digg.com Amazing clone script. Create a site like digg.com with this user friendly script.

2, Own your own CMS like Digg.com. This site allows you to run your own site just like the real one. Includes article managment, videos and much much more!


3, The diggCLone project is an effort to reproduce the functionality of the oh-so-popular social bookmarking site, digg.com. We've changed up a few things about it, but kept how the site basically works. Right now, we're still in some of the early stages, though, so some of the functionality isn't there yet.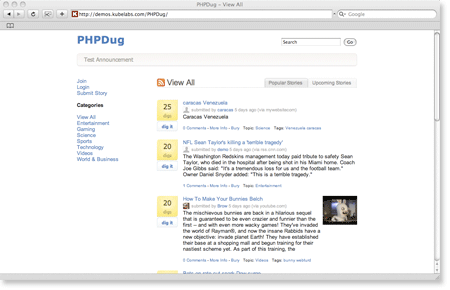 Details:
PHPDug is very similar to digg.com, particularly its dig buttons. It runs on PHP/MySQL, supports 12 languages (English, German, French, Spanish, Portuguese, Thai, Chinese, Arabic, Dutch, Indonesian, Turkish, Persian) and here are its features:
Easy to edit html template files
Spam fighting captcha security codes
Simple wizard installation
External dig buttons
Easy to edit language files
No need to setup a cronjob
Dig up/down comments
Powerful Admin panel for controlling your site

Automatic thumbnail retrieval for youtube and google video

Automatically add stories from RSS feeds

The above two are by far few of the popular ones, but if you are intending to look for more, here's another 4 more digg clones scripts with however less online support. Authors' descriptions in quotes.
Demo:
Check out the
Front D
emo
,
as well as the
Admin Demo
(user/pass : demo/demo)
Download:

http://rapidshare.com/files/122035217/digg.com_clone.zip
at 11:40:00 PM
No comments:

Yahoo Answers Clone Website allows you to run a website similar in functionality with Yahoo Answers.

This php Yahoo Answers Clone script uses a database to store users and submitted information. This script makes a great stand alone website or can be used as an addition to any website.Visitors can browse questions and answers. Visitors can register and post their own questions or submit answers to questions other members have posted. This script is built to keep visitors and members returning. Visitors and members can report offensive or spam type questions.

Yahoo Answers Clone Website has google ads built in so all you need to do is add your google id in the configuration file, however, these ad spots can be altered very easily to accomidate for other ad types.

Easy to use administration area allows for the admin (you) to add/edit/delete new users, add/edit/delete categories and subcategories, add/edit/delete questions, add/edit/delete countries, filter bad words, and more.

Features:
- Built In Google Ads
- Completely Automated Website
- Easy To Use For Visitors, Users, And Admin
- Very Simple Installation




Download:



http://nupsout.com/68-yahoo-answers-clone-nulled/
at 11:39:00 PM
2 comments:

Download:
http://rapidshare.com/files/125158728/xlice.net.rar
at 11:38:00 PM
No comments:

GejoSoft is a PHP
image hosting script
that works like no other software. With GejoSoft
community software
you can run your own
social networking site
similar to Flickr and Photobucket or even a regular
image hosting
service like ImageShack. GejoSoft has developed our flagship
social networking software
with site owners like you in mind who are looking to start your own niche "Flickr clone" image hosting and social network community.
Demo:


http://www.fociki.com/



User:

testuser


Pass:

password

Download:

http://www.megaupload.com/?d=2YGG4G3S
or
http://www.megaupload.com/?d=GDXLM2WN
at 11:09:00 PM
1 comment: